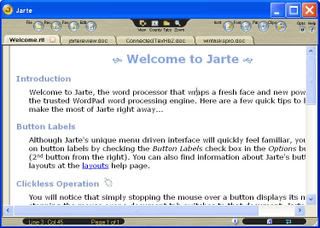 What the heck is a Jarte?
Jarte \jär · 'tay\ noun (est. 2001) 1. A free word processor based on the Microsoft WordPad word processing engine built into Windows. 2. A fast starting, easy to use word processor that expands well beyond the WordPad feature set. 3. A small, portable word processor whose documents are fully compatible with Word and WordPad.
I've been into portable apps lately, simply because I can use them on my office computer, which otherwise would not allow me to install the apps I like. Jarte is small enough to use as a protable app that runs from your flash drive. It has some cool features that make it a great application in its own right, too.
Fully compatible with Windows Vista
Tabbed interface to provide easy access to open documents
Opens files with file extension RTF, file extension DOC, and file extension DOCX (new default format in Word 2007)
Fast start up
Compact screen size
Optional "Clickless Operation" feature greatly reduces clicking
Can be run directly from a pluggable USB flash drive
High quality spell checker with custom user dictionary
Included spelling dictionaries: English (American, British, & Canadian), Spanish, French, German, and Dutch
Link to, or import, your existing custom Word spelling dictionaries
Support for templates
Export to HTML or PDF
Single click bookmarking and bookmark navigation
Send documents via e-mail
Full drag and drop file support
Instant access to recently opened documents and folders
Instant access to documents and folders designated as favorites
Adjustable document zoom
Detailed Help documentation
Get it
here
.
Barry's Best Computer Tips is updated often; the easiest way to get your regular dose is by subscribing to our news feed. Stay on top of all our updates by subscribing now via RSS or Email.