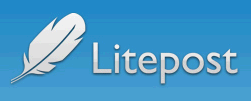 If you feel a bit overwhelmed with web mail offerings these days, you probably have company. All the bells and whistles are dandy, if you want them and need them. But what if you happen to want a simple, clean interface? Today is your lucky day, my friend, because I am going to introduce you to the web mail you desire: Litepost.
From their welcome email:
We're Different:
Until now, the webmail experience has been a stale and confusing experience. Instead of finding new ways to help you communicate better, other services just add more features, often at the expense of usability. Fortunately, we've rethought webmail, focusing on one thing: sending and receiving messages (imagine that). No more, no less. (If you really want to subscribe to RSS feeds from within your inbox, we hear the new Yahoo! Mail beta has it.)

Clutter-Free Design:
Instead of burying the user in features they'll never use, the Litepost webmail experience is simple and straightforward. Nothing in the interface is out of place, nor is any detail too small. Using webmail is suddenly a quick and intuitive workflow, rather than a chore. Browse, sort, read, manage, and send with ease.

Everything Is Free:
Just like most other services, Litepost offers free hosted email accounts. But we've taken the definition of free to another level. We've made the Litepost webmail server an open source download, so you can install the solution on your own server, without relying on another company to store your messages.

One Size Doesn't Fit All:
Out of the box, we think the default Litepost webmail interface will work great for most people. However, if a user has different preferences or needs, we happily support change. Interface templates allow you to totally change your webmail experience, both aesthetically and functionally. Find one that suits you or design your own.
Litepost has quietly opened its registration to all comers.
Litepost
[via
downloadsquad
]
Barry's Best Computer Tips is updated several times every day; the easiest way to get your daily dose is by subscribing to our news feed. Stay on top of all our updates by subscribing now via RSS or Email.