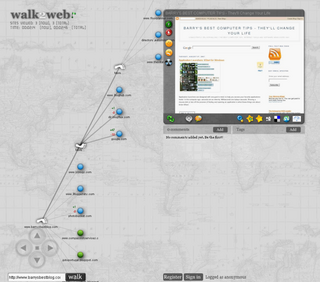 Until totally immersive virtual reality arrives (within 20 years or so), this might be the most intriguing way to traverse the links from web site to web site. At least it is at the moment. Walk2Web lets you take figurative steps from here to wherever the links might take you.
Start out by typing in www.barrysbestblog.com and see my linked sites appear. Click "more" and go further out; click on a linked site and see where that site goes. At each stage a computer voice tells you what you've stopped and a mini home page appears. It really is a great way to move through the web's complex network of links, discover new sites, and learn new things. Give it a try at...
Walk2Web
[via
Download Squad
]
Barry's Best Computer Tips is updated several times every day; the easiest way to get your daily dose is by subscribing to our news feed. Stay on top of all our updates by subscribing now via RSS or Email.