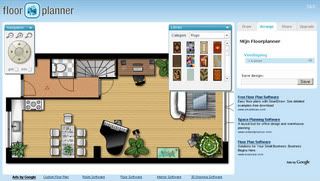 How many times could I have used this web site? Too many. But the good news is, I can use it now. Whenever I need to move my home or my office, or even if I just want to consider different room layouts, Floorplanner can be a real time, and back, saver.
Rather than move stuff around to see if it all fits, or waiting until you move in to think abut best to place all your stuff, why not use Floorplanner to do it virtually first? With a free account you can try out various configurations to your heart's content, and all without putting a strain on your precious spine.
Floorplanner
[via
CyberNet
]
Barry's Best Computer Tips is updated several times every day; the easiest way to get your daily dose is by subscribing to our news feed. Stay on top of all our updates by subscribing now via RSS or Email.