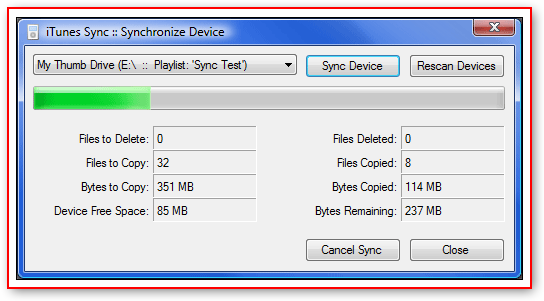 This Windows download will sync and transfer your iTunes music to non-iPod music players. iTunes Sync bridges the gap between iTunes and the non-Apple world of MP3 players.
Do you have iTunes? Do you have an iPod? I guess you don't have an iPod, otherwise you probably wouldn't be reading this. I have iTunes, I don't have an iPod, but I wanted to be able to sync my MP3 player with iTunes, regardless of what brand it was… and so iTunes Sync was born. In just a few easy steps you can synchronize any iTunes playlist with any MP3 player that shows up as a drive letter in Windows (pretty much all of them do). It's as simple as 3 easy steps:

Setup a playlist in iTunes that you want to sync to your MP3 player
Configure your MP3 player in iTunes Sync by giving it a name, selecting an "identification file or folder" and selecting a playlist from iTunes
Now just click Synchronize and watch the magic happen!

You can configure as many different MP3 players as you need and synchronize each one with the different iTunes' playlists. Amazing! Magic! Technology!
iTunes Sync
Via Lifehacker
Barry's Best Computer Tips is updated several times every day; the easiest way to get your daily dose is by subscribing to our news feed. Stay on top of all our updates by subscribing now via RSS or Email.