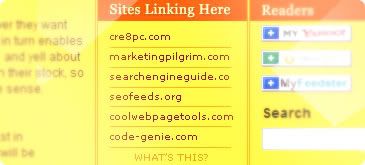 If you've got a great web site or blog and have lots of other sites linking to you, you'll want to show off a little. Now you can add a WhoLinked list in your sidebar.
WhoLinked gives you the code to add to your web site, Blogger, WordPress, TypePad, MoveableType and others.
WhoLinked
Barry's Best Computer Tips is updated several times every day; the easiest way to get your daily dose is by subscribing to our news feed. Stay on top of all our updates by subscribing now via RSS or Email.