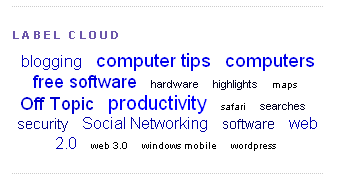 Label clouds are cool-looking. If you agree, and you have a Blogger blog or two, and you have a regular label list, I can point you in the right direction. Here you will find all the code and very clear instructions that actually work. At least they did for me. Here you go.
Blogger Tag Cloud Setup and Configuration
Barry's Best Computer Tips is updated several times every day; the easiest way to get your daily dose is by subscribing to our news feed. Stay on top of all our updates by subscribing now via RSS or Email.