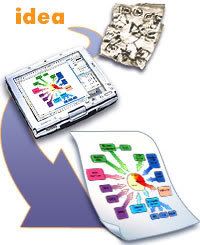 I've told you before about some of Giveaway of the Day's excellent free downloads. They do what their name says: Each day you can get their featured software app for free, but only within a 24-hour period. These applications typically cost $15 to $30 if you wanted to get it through regular channels. Every once in awhile however, they give away software of substantially more value. Like today.
Concept VI Standard normally costs $149. It's a 60Mb download, a substantial piece of software. Here's some descriptive info:
ConceptDraw VI software is intended for professional flowcharting, diagramming and illustrating. Its flexible, handy tools help quickly document a variety of complex structures, systems and processes.

ConceptDraw VI charts can be shared as a large array of graphic files and CAD documents, presentations and web pages.

ConceptDraw VI is a Windows and Macintosh cross-platform application. All documents and libraries are 100% compatible. Thanks to its advanced libraries of pre-drawn shapes ConceptDraw VI provides the best assistance for most charting tasks and can be broadly applied within a small office or a larger enterprise.

In many cases a single picture speaks better than a thousand words. To document and explain complicated data, system or process, clear flowcharts or diagrams is one of the best ways to present them. Requiring little skills and efforts to create high-quality professional graphics ConceptDraw VI will become your efficient assistant.
Click
here
to visit the givaway page.
If you enjoyed this post, please take a moment to
subscribe to our RSS feed.
Barry's Best is updated several times daily.