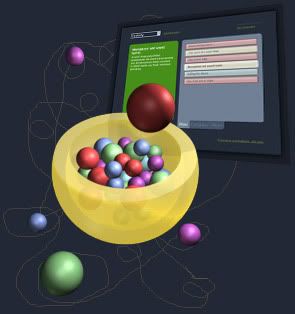 Another great way to hang on to those brainstorms you have and typically forget. This Web 2.0 site has a very user-friendly interface that'll make putting those light bulbs together in a way that you can use. Who knows, maybe you'll invent the next great gadget that'll change everything! Here are some of the features you'll find at Wridea:
Never forget your ideas again. Save them as you have them.

Create categories and organize your ideas.

Create brainstorm sessions with your friends.

Use wridea as a basic project management tool. Create a page for each project and different categories for each work type.

Collaborative brainstorm sessions. With Wridea, your friends can participiate on your ideas by commenting on them.

RSS Feeds. Subscribe to your friends' idea or comment RSS feeds and stay tuned!

Get your ideas organized. Wridea is easy to use. Letting you create, edit and delete your ideas, pages and categories smoothly and easily.

Create ideas. Let your mind focus on new ideas and discover new things. Free your mind by storing all your todo items, ideas, concepts, anything cluttering your mind in wridea.

Create categories easily with wridea for categorizing your ideas and thoughts. For example, create a category named "Illustration" and put your new illustration concepts into it.

Create pages for collecting each related ideas into single pages, even if they have different categories. For example, you can create a page for one of your projects and add all your ideas, todo items, concepts or anything else related to that project into the newly created page.

You are the limit! You have pages, categories and ideas. Use wridea your way!

Click to visit their
site
!
Barry's Best Computer Tips is updated several times every day; the easiest way to get your daily dose is by subscribing to our news feed. Stay on top of all our updates by subscribing now via RSS or Email.