Text editors are useful for lots of things because the files they create don't have all the fileformat-specific crap that a typical word processor like MS Word includes. So you'd use Word to create a written document with all the bells and whistles, fonts, colors, margins, etc., but you'd use a text editor when you need to work with plain text, as in messing around with source code, HTML and control files.
There are also times when you want to copy and paste some text into a document, but you don't want any formatting to come with it. Firefox has a "copy as plain text" extension that's good for this, but sometimes you've got a whole document that you need to strip the formatting from. A text editor is great in these situations. Just paste the whole formatted mess into the text editor and all the formatting is stripped. Then you can copy from there and paste your cleaned text.
Windows comes with a very rudimentary text editor, Notepad, but it can only have open one file at a time. Here are a couple of great, free alternatives, the first more basic, the second very geekified.
Notetab Light, screenshot seen below, can be downloaded from
here
.
NoteTab Light is the ultimate free Notepad replacement and a capable HTML editor. A slimmer version of the award-winning NoteTab Pro, this slick application makes text editing a breeze. Move quickly around a stack of large files with a simple tabbed interface. Format your text to your heart's content. Write with the font of your choice, fixed-width or proportional.

Key Features


Open and edit many documents at once
Capable of editing huge text files
Text drag-and-drop editing
AutoCorrect/Auto-replace mode
Clip tool for quick and easy text insertion
Capture text sent to Clipboard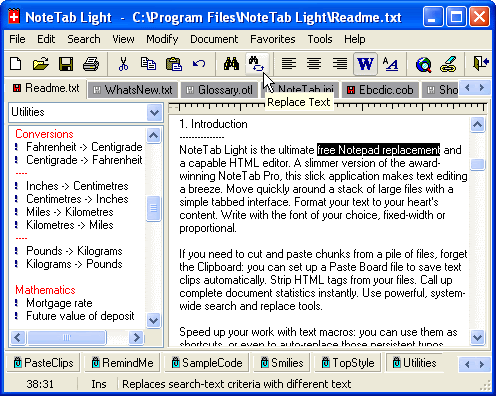 If you need more, Crimson Editor, screenshot seen below, can be downloaded from
here
.
Crimson Editor is a professional source code editor for Windows. This program is not only fast in loading time, but also small in size (so small that it can be copied in one floppy disk). While it can serve as a good replacement for Notepad, it also offers many powerful features for programming languages such as HTML, C/C++, Perl and Java.


Syntax Highlighting for HTML, C/C++, Perl, Java, Matlab and LaTeX. Also, it can be extended for other programming languages based on custom syntax files.
Other features include undo/redo, user tools, macros, spell checker and more.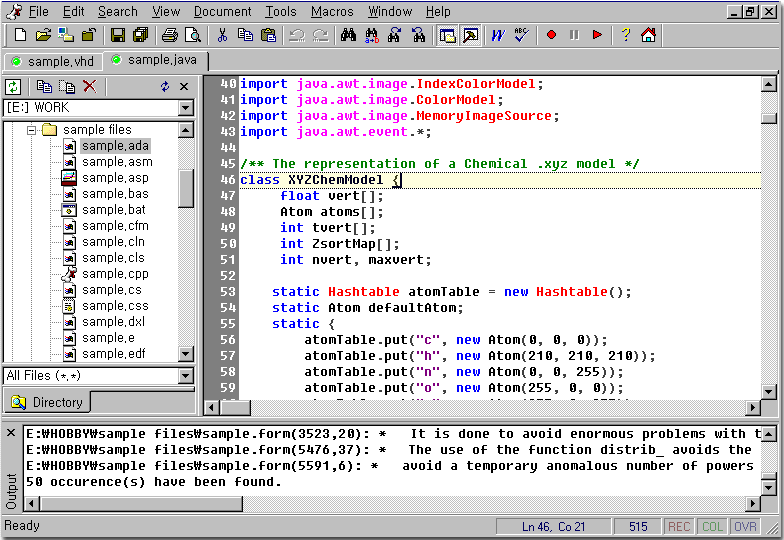 If you enjoyed this post, take a few seconds of your time and
subscribe to our feed!
Barry's Best is updated daily!