Setdot is an event-planning web app like no other. You can party like it's 1999 or have a baby shower. Any event can be planned on the web using the template that shows off your event to perfection. Get in on the beta by registering for an invitation today! Here are some of setdot's features:
setdot is a fun and new way to plan and manage social events. Using innovative setdot technology, you can instantly create and send stylish events. With setdot, you have the great tools to make great events happen and have fun at the same time.
What sets us apart?

setdot aims to go beyond any other events management system out there today. It's about creating a fun and professional looking environment that's not only easy to use, but also provides for a superior user experience.

Whether you plan the next party or just plan to hang out, setdot caters to all kinds of events or occasions.

Here are the features that make setdot the hub for all event and activities:

* Stylish and elegant events - looks and plays so cool, you will be addicted.
* Public events - create and share your event with the public.
* Need for speed - never have to wait for a page to load.
* Richer user interactions - cutting edge web technology that provides for superior user interactions.
* International reach - us, canada or europe, there is support for location search and maps.
* Collaborate with your guests - use our messaging feature to interact with your guests and vice versa.
Check it out by clicking on the logo above!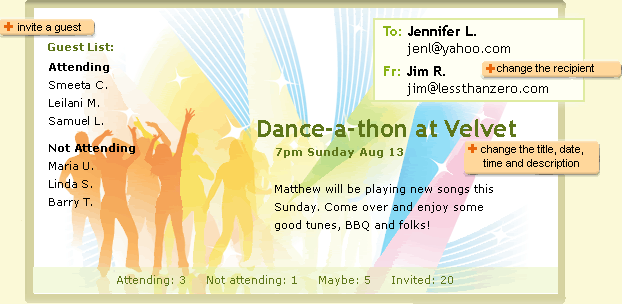 (Via DownloadSquad)
If you enjoyed this post, take a few seconds of your time and
subscribe to our feed!
Barry's Best is updated daily!