As in Zorro. Get it? Alright.
Zoho is a web-based suite of office software that is simply full-featured and beautiful. I had signed up way back when all they had was Zoho Show, their presentation application. Now they've got Zoho Writer (which is better than MS Word, according to PC World), Zoho Sheet, Zoho Wiki, Zoho Notebook, Zoho Meeting, Zoho Projects, Zoho Creator (gives you God-like powers to make databases), Zoho Planner, Zoho Chat and Zoho Mail (for now in private beta, only for the geekniscenti).
Apparently they're adding apps constantly, so I'll have to add more Zoho Doodads next time I post about them. You really need to sign up and experience their powerful and long-legged programs. You can visit Zoho by clicking on the graphic below.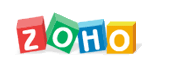 If you enjoyed this post, take a few seconds of your time and
subscribe to our feed!
Barry's Best is updated daily!