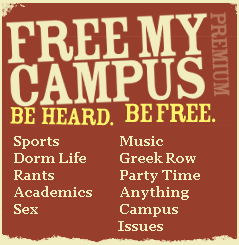 FreeMyCampus is a cool new online magazine just for students. If you are one (a student), this site is worth taking a look at. It'll give you an opportunity to read what other's are saying and dealing with in their lives, and you can voice your own thoughts too, on anything from dorm life to academics, current events to music. From the site:
FreeMyCampus.com is an edgy, controversial, and humorous digital magazine for college students. This site is built to empower student writers to build national and campus audiences around college life topics. Readers get to rank stories by giving their daily freek points.
Take a look by clicking on the logo graphic above.
(Via KillerStartups)
If you enjoyed this post, take a few seconds of your time and
subscribe to our feed!
Barry's Best is updated daily!