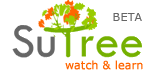 Here's a web site that can. SuTree is chock full of videos showing you, not just telling you, how to do stuff. There's no question that many things are more easily and quickly learned by seeing someone else do it than by reading some instructions. Many of us hate instructions, and will only turn to them as an absolutely last resort. Well, now you can sit back and watch. And if you don't get it the first time, watch it again. You'll get it eventually!
(Via
KillerStartups
)
If you enjoyed this post, take a few seconds of your time and
subscribe to our feed!
Barry's Best is updated daily!