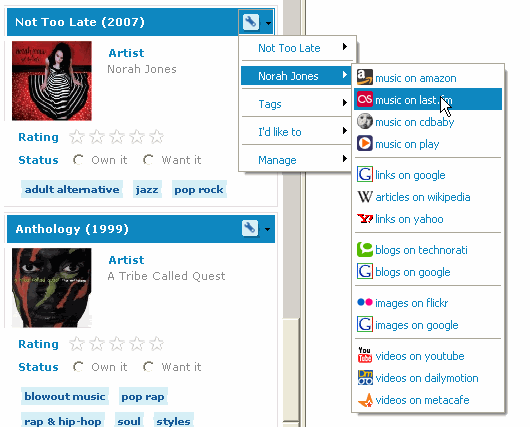 I just spent a fun 30 minutes setting up my BlueOrganizer. What's that? you say. I'll let the creators tell you themselves:
BlueOrganizer is the new smart-browsing tool for Firefox and Flock. It unleashes the information hidden in the pages of your favorite web sites, and allows you to quickly do what you want to do: find, compare, upload, download, post, rent, reserve, rank, keep track, subscribe, share, and more... The Web is even more connected with BlueOrganizer!

Browse Smarter! BlueOrganizer is context sensitive and instantly connects your favorite web sites to each other. With BlueOrganizer, related information for your movies, restaurants, travel destinations, music, books, and more is just one click away.

Capture Your Experiences! BlueMark the things you find interesting or turn on Auto BlueMark and let the BlueOrganizer do it automagically for you.

Share Anywhere! Publish your BlueMarks on your blog and your FaceBook or MySpace, and share your picks with friends and family via RSS.
Wait, there's more!
BlueOrganizer works to help you simplify and organize your life online. It understands that you and your friends are dealing with everyday objects, like movies, books, restaurants, wines and cars. BlueOrganizer connects those objects with the tasks you want to get done online by instantly connecting your favorite Web sites to each other. Do stuff like this:

* Looking up movies on Amazon? Rent one of them on Netflix instantly.
* Reading an article on iPods? Compare prices on PriceGrabber with one click!
* Create a Jack Johnson station on Pandora.
* Reserve a restaurant on OpenTable right from the restaurant review page.
* Look up a map on google without typing a thing!
* Find out what bloggers are saying about the latest New York Times bestseller.

BlueOrganizer also understands that your information is currently scattered across the Internet. To better use that data, BlueOrganizer helps to easily consolidate and cross-pollinate your information throughout different blogs, web sites and web services.

With BlueOrganizer your information is no longer isolated. Instead it is working for you all the time, helping you find new relevant information faster.
You can see a BlueBadge I created that shows some of my favorite books on my sidebar. I like this tool a lot. It might just be a keeper. Get it
here
.