I found this little gem at
juiceanalytics
. If you love Excel and eating like I do, then this Excel workbook is bound to make you happy. Unless you have TV dinners (are they still called that?) every night, or are so well-off that you can afford to eat out all the time, you will face the challenge of trying to figure out what you're going to have for dinner. Most people seem to come to this little sticking point on a weekly basis in order to avoid having to go to the grocery store several times a week. In my family my wife works as a teacher (and you know how inflexible
that
work schedule is), while I work from my home office. So I'm the one who typically visits the store. So I wouldn't mind some technological help figuring out what to get. Enter
Cathy's Recipe Manager
! She's made it available to anyone, so download and share it to your heart's content.
It works in a simple 3-step process:
Step 1: Use the handy recipe input sheet to add new items to your list. Tip: Only add ingredients that you don't normally stock.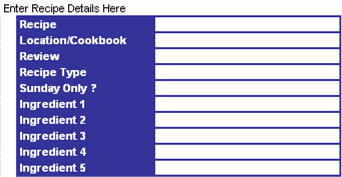 Step 2: Select from drop down lists of dinner options–one for each day of the week. The dinner suggestions area at the bottom randomly selects a set of recipes to provide some fresh ideas.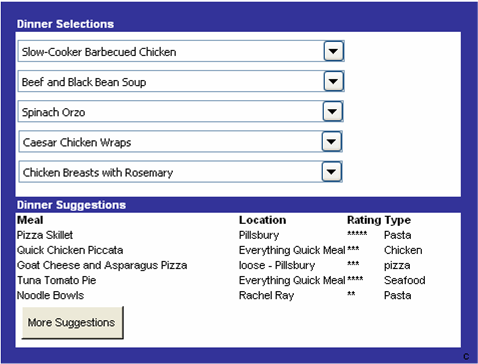 Step 3: Print out your automatically generated shopping list.
The Recipe Manager comes with a few recipes pre-entered, but you can change them and enter your own recipes as much as you want. Bon appetit!