On a lighter note than my last post, I just finished Barry Eisler's latest novel,
The Last Assassin
. I became a fan of Eisler after reading the first in his John Rain series,
Rain Fall
. I'm not usually interested in the James Bond-ish international spy thrillers that crowd the bookstores. Eisler's novels are different. They have depth of character development, realism, and action sequences that are absolutely first rate. He relies heavily on experts in many fields to make his stories very true-to-life. He's probably the best at what he does, in my humble opinion.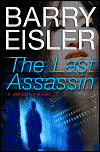 The Last Assassin